Everything you need to know about us
We are a multicultural team of talented engineers, designers, analysts and product managers. We pride ourselves in building excellent products that work seamlessly for our photographers and their customers.
If you are looking to join a team that loves working together and can't wait to have your help fixing things then make sure you get in touch.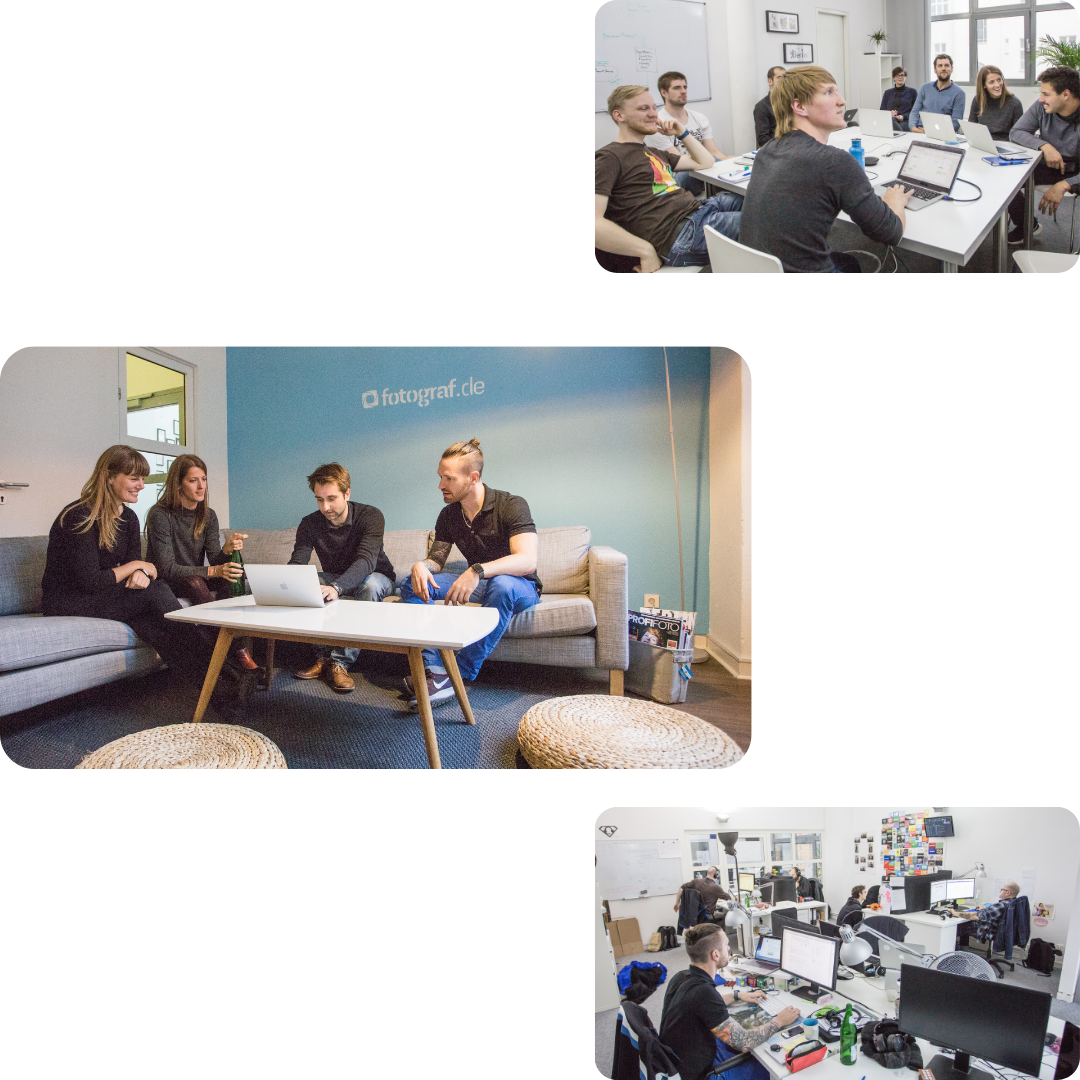 How We Work
Agile
We work in cross-functional teams made up of engineers, product managers and product designers. We follow agile methodologies with teams choosing how they work. Most teams work with Kanban.
Product Lead
The priorities and direction for each team is set by the product manager and the tech lead. Product design regularly runs usability tests and interviews. Product management works closely with the customer-facing teams. We are reducing the distance between customers and developers further in 2022 and we need talented Product Managers, Analysts and Designers to help us get there!
The Workflow
We work mainly remotely. We use tools like Slack and Jira to keep track of work asynchronously and do a weekly team meeting with everyone and smaller stand ups within our teams. We love to pair code, draw diagrams and solve problems together. Remote work is something we want to get better at and hope you will bring tricks and tips to improve our working life at GotPhoto.
Relocation
While we love to meet up in Berlin for drinks or dinner, we hire as a remote first team. We are looking for remote team members in the EU and we offer relocation for those of you who want based in Berlin. Get in touch today to talk to one of our recruiters who will be able to tell you more.
Shop Team

Our shops are used by hundreds of thousands of parents each year so they can buy their childrens pictures and printed products in a secure manner. This year, we have a new shop built in React for our US market.
Finance Team

Our finance team manages the 1.1m+ sales we receive across Europe and North America to make sure parents have a seamless payment experience and photographers smoothly receive their income and financial information.
Photo Handling NEW

Increasingly demanding parents want their kids to be the stars of their photos. Our new photo handling manages not only processing of millions of images on a new AWS Lambda infrastructure but also to allow effects and custom editing.
Production NEW

We send millions of photos to partner labs across Europe and North America each year. The Production team makes sure that parents receive their physical photos.
Photographer Workflow NEW

Our photographers' businesses rely on GotPhoto and us providing a smooth experience from uploading a list of people to photograph, to uploading their photos, making them available in the shop and managing orders. The Photographer Workflow team's challenge is to ensure a great self-service experience.
Platform team

The beating heart of the product! The platform team is responsible for the infrastructure, data model, back office and enabling huge scalability. Our platform engineers are highly technical and pursue the design of a platform that enables the teams.
Engineering

Team of 10 engineers (growing to 20 by end of the year). We love working with technology and solving problems for our customers. Our bread and butter is PHP, Node.js and React. We're curious and regularly exchange ideas on new technology and better ways of working. We're looking forward to welcoming new members who can share their passion with us.
Product Design

Our customers include both photographers and parents who purchase photographers' work. Ensuring that the diverse needs of both these groups are met is a challenge our Product Designer takes in stride by understanding our customers' needs and helping to build products that provide solutions. Creating effective user experiences that solve problems is the driving force that motivates design decisions at GotPhoto. To accomplish this, prototyping tools such as Figma, InVision and Sketch are indispensable, for example, in our goal of creating applications photographers use to allow customers the ability to easily purchase photos.
QA

We love the platform and our users. We are a valued part of the tech team, collaborating at each step from leveraging our platform and customer knowledge during design and discovery to automation, testing and quality standards during development and delivery. We're free to do whatever brings the quality of GotPhoto to the next level. Automation is key for us now. We've introduced Cypress. We're looking for talented individuals to take this further!
Product Management

A team sat at the intersection of business and technology best describes us. We bring years of experience in the photography industry but also draw on involvement within the Product field with companies ranging from startups to established organisations. Currently we're a team of two PMs, growing to at least four, who own products designed to enable photographers to maximise their business potential -namely our customer- facing shop, our backend applications used by photographers and services to support payment. Working in GotPhoto's Product team requires a questioning mindset to ensure all aspects of a photographer's workflow are considered. Frequent collaboration with stakeholders and other members of the Product team is a must.
Business Intelligence

The analysis performed by our BI team is essential to providing insights into our customers' behavior as well as to how our products measure up against expectations. In addition to an analytical mindset, the team leverages its understanding of the online photography industry to deliver valuable information to the entire Product team. Collaborating with our BI Specialist requires a mix of creative and ordered thinking to make connections between data and real-world scenarios that define how our applications are used. Some of the important work our BI Analyst has completed recently includes measuring feature adoption and providing insight into specific photographer workflows.